Emanuel Behe Origins
Emanuel Behe Origins
Emanuel, the immigrant, the man who brought the Behe family to America. But from where? Is it possible to find the specific place/town in Europe where Emanuel was born? According to the McMullen book (see documents) Emanuel was from Alsace, arriving in Baltimore in 1790. Available passenger manifests for the port of Baltimore don't begin until 1820, so there is no known confirmation of his arrival or from where he departed (these manifests often listed a passenger's place of birth). Census records during his lifetime did not list place of birth. The census records of his children list their birthplace as Baden, Bavaria, or Germany at various times.
The only known historical document which references his place of origin is his naturalization record, dated August 1802. It shows his origins as the Province of Alsace, in France.
Place of Origin Found?
On June 11, 1751 a child, Fr. Emanuel Biechi, was baptized at the Roman Catholic Church in Ingwiller, a small town in Alsace. 'Fr' was short for Franciscus (Latin), Francois (French), or Franz (German) and was a common first name when the middle name was in fact used. Biechi is the French version of Büchi. Is Emanuel Biechi/Büchi from Ingwiller our Emanuel? It seems likely. Consider:
The name matches (and both first name and surname were relatively uncommon).
Both were born in Alsace, and both are Catholic.
Emanuel Biechi was born in 1751. Many Behe researchers have calculated Emanuel's date of birth from 1750-1760 based on when his children were born and when he died.
Emanuel Biechi's brother Johann Georg was a tinner, as was Emanuel Behe
Emanuel Biechi's mother was named Susannah; Emanuel Behe named his first born daughter Susannah. Not an uncommon name at the time, but still a coincidence.
Can it be proven conclusively? I've yet to find a record of marriage, children, or death for Emanuel Biechi in Alsace, so the record was either never made, or lost, or hasn't yet been found. Or he had moved from Alsace. Aside from the departure during the French Revolution, there was westward migration from Alsace, towards available land in Hungary and Russia. A record of his marriage, emigration somewhere, or the birth of children with the same names as those of Emanuel Behe would go a long way towards clinching it. Absent that it isn't certain, but my strongest hunch is that this is our Emanuel.
Emanuel Biechi/Büchi Family
As shown above, Emanuel Biechi/Büchi was baptized in the town of Ingwiller, Alsace. He married Marie Anne Reinhard on November 22, 1773 in Brumath. At the time, this area was German speaking and belonged to states of the Holy Roman Empire. Emanuel's ancestral line and his siblings are listed below.
Johann – Margrith Schonholzer
↓
Hanss – Maria Magdalena Henck (Hanss DOB 9/27/1640, marriage 1671, death 1694)
↓
Johannes – Anna Marguerite Siebenbürgen (Johannes 8/27/1684 – 4/27/1749, marriage 8/9/1718)
↓
Johann George – Susannah Stimp (Johann 1713 – 5/5/1761, marriage 10/17/1730)
↓
(Children of Johann and Susannah)
Joseph
Maria Christine (1737 – 1763)
Jean Michel (1743 – 1784)
Maria Margaretha (10/18/1744 – 3/8/1756)
Johann Goerg (2/8/1747 – 5/5/1761)
Fr. Ludwig (6/11/1749 – 5/15/1770)
Fr. Emanuel (1/19/1751 – 1837)
Maria Magdelena (8/6/1754 – 3/8/1856)
Update: Switzerland Origins. I heard recently from the man living in Nancy, France who had given me the critical information about Emanuel's birth record in Ingwiller. He belongs to a group of amateur genealogists. An article in the groups publication entitled Les meuniers Buchi (the Behe millers) details the story of three brothers, millers by trade, emigrated from Eriswil, a small town in what is now Switzerland, to Ingwiller.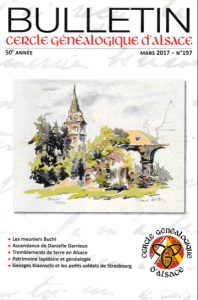 The brothers, Ulrich, Peter, and John (Jean/Johannes) emigrated to Alsace in the 1600's. It appears they moved to purchase available mills in the area, from which to ply their trade. They came from Eriswil, a small town in what is now Switzerland. John was Emanuel's grandfather. At that time Eriswil was part of the old Swiss Confederation. This period was the time of the Swiss Peasants War, an outgrowth of the Thirty Years War. There was also conflict between Catholics and Protestants. At the same time, Alsace had been devastated and depopulated by the Thirty Years War. The King of France offered free land and religious freedom to entice immigration, so we can surmise that the combination of these events led to the brothers seeking their fortunes in Alsace. In any event, the suspected Swiss origins appear to be confirmed. The brothers father was also named John (Jean/Johannes). Büche is a far more common name in Switzerland than Alsace or Germany.
The article lists Emanuel's date of marriage as November 22, 1773 to Anna Maria Reinhard in Brumath, Alsace. There are various references in old Pennsylvania records listing her name as either Anna or Mary, this seems to clear that up.

Behe's return to Ingwiller. Stephen Behe (Emanuel-Mathias-John-James-Jesse-Robert-Stephen) and his children Nathan and Sarah visit ancestral home.